100% Happiness guarantee

Your money back if you don't love the results
PURE GOLD FOR ALL CROPS

Proven results for hydroponics, farming, home gardens & turf
HOW OUR PRODUCTS MAY
ENHANCE YOUR GROW
IMPROVED NUTRIENT UPTAKE
Our products have a sophisticated uptake mechanism that can reduce leaching of fertilizers and nutrients. Nutrients locked in the soil profile can cease accumulating and may be slowly released after each application of Fulvic Link or Humic Link.
MORE BALANCED SOIL
Regular application of our products may lead to a more balanced soil profile thanks to improved structure, better moisture retention and drainage. Over time Fulvic and Humic Link can impact compaction, saturation and aeration issues you may be facing by supporting healthy microbe populations and kick starting the natural soil food web.
RESIST DROUGHT & PESTS
Applied as a foliar spray with regular fertilizer and soil treatments, Fulvic and Humic Link may increase the health of your plants. Healthier plants are less attractive to pests and less susceptible to external pressures such as drought, disease and insect attack.
OUR SCIENCE IS SUPERIOR
Fulvic Link and Humic Link technology is the culmination of over 15 years of research and development. Our products are like nothing else on the market.
Sophisticated Extraction
Our unique patented technology allows us to target lower weight molecules, known for their superior ability to enter a plant due to their tiny size.
High CEC
Our technology isolates only the most highly active fulvic and humic fractions, offering high Cation Exchange Capacity (CEC) and nutrient delivery and translocation efficiency.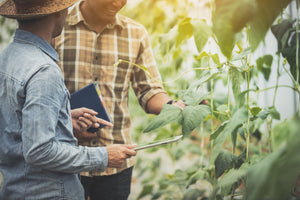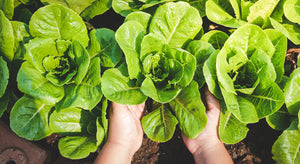 NATURAL & SAFE FOR ALL PLANTS
Our products are safe and effective for a variety of growers including home gardens, commercial sized turf and race courses, hydroponics, farming and more.
Works In Hydroponics
Independently validated scientific testing has proven Fulvic Link and Humic Link's superior results in not only sub-optimal growing conditions, but also highly optimised hydroponics environments.
Eco Friendly
We care for plants and animals as much as you do. Our products can allow you to reduce your need for synthetic fertilizers and pesticides, building an ecological approach to plant development.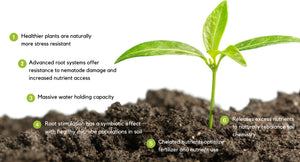 Some states don't accept fulvic acid analysis and will only allow the sale of humic acid substances.
View Products In Your Region
Customer Testimonials
Stunning Growth
The roots were looking good with definite improvement, but after leaving them a few weeks recently without checking I was stunned to see the growth in the last two weeks. The roots have literally doubled in size. This is an excellent result.
Brendan Jackson
Biggest Selling, Proven Results
Independent Turf Services has been selling Fulvic Link for the previous 8 years. Our Sales have continually increased and the product has become widely used across Australia by turf managers ranging from Golf Course Superintendents to Race Track Managers. Fulvic Link has been sold based on proven results and word of mouth, and has become one of our biggest selling products.
Scott Kempster
Independent Turf Services
Outstanding Restults
On the back of our amazing results with the 2015 trial of Fulvic Link's fulvic acid, we decided we would implement it in to our program. The 2015 trial showed us root mass that we have never seen before. Strong root system is the most important thing for racing, especially with the program we face….there is no doubt the key factor was the addition of Fulvic acid. On average we were able to increase the root mass, depth and density by over 100% from previous years and it also helped our fertilizers work more efficiently. All this contributed in a much fairer racing surface that trainers, jockeys and punters had confidence in. We were able to leave the rail closer to the true, to maximize field sizes and this has been a huge factor in why wagering is up. We have used less seed and fill and saved money on contractors at renovation time. Although these products may seem expensive, they are best practice and the results speak for themselves.
Sam Tankard
Turf Manager Moonee Valley Racing Club
The best, straight up.
Fulvic Link has a distinct humic acid product (Humic Link), nobody else has anything like it. We have not used a better humic acid. Straight up.
Erik Biksa
Editor Grozine Hydroponics & Columnist High Times and Maximum Yield Magazines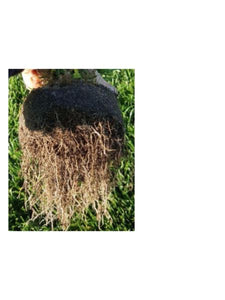 BEFORE
Damaged roots due to poor quality water, carbonate and bicarbonate issues and exchangeable sodium at 57%....never seen the roots this bad, 4-6 single brown roots on average per plug, 0/10 rating....
AFTER
Fulvic Link applied at 16 L/Ha weekly for 8 weeks was the only program change made. Roots now rated 8/10, 60+ roots per plug to 130 mm depth. Fulvic Link has certainly played a significant part in the race track racing the best it ever has in winter."
Growing Stronger Together